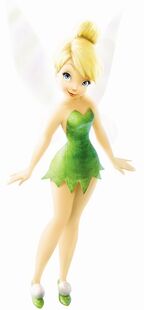 Tinker Bell is a sidekick played by AnnaGudvrsven.
About Her
Edit
Tinker Bell is described as a common, tinker fairy who is small, slender, hand-sized and fair-skinned. Tink can be feisty and is hot-tempered, but she is also quite cute. She has baby-blue eyes, blonde hair worn in a bun and pointy elf-like ears. Tink sometimes has a jealous side and can be ill-behaved and vindictive, but at other times she is helpful and kind to others. She is usually seen wearing a green strapless dress with a mini-skirt, green shoes with white puffs on her toes and clear, insect-like wings on her back.  
Where did we see her?

Edit
She is from Peter Pan (1953).
Ad blocker interference detected!
Wikia is a free-to-use site that makes money from advertising. We have a modified experience for viewers using ad blockers

Wikia is not accessible if you've made further modifications. Remove the custom ad blocker rule(s) and the page will load as expected.